Path of the Yogi
Interested in changing your life? Seeking a different path? Not sure where to go? Learn, grow and thrive at the ZenSpot Institute.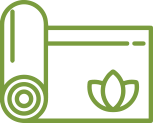 Become part of a powerful institute rooted in a powerful lineage.
The ZenSpot Institute offers 200-hour foundational, 300-hour and 500-hour advanced yoga studies and transformational programs that are recognized by the Yoga Alliance. All programs are offered locally, regionally, nationally and internationally.